Time for a Change.
Over the last few months, I have really been taking a hard look into my 39 + 2 year old self. I had glorified my 40's to be "the new 30's" but it just wasn't panning out to be that way. I'd be fibbing if I said 2018 was a personal best and that my family and I had nothing but awesomeness happening at.every.moment. Ok, no one feels awesomeness that much but the ratio should be closer to 90% good and 10% not so good, shouldn't it?  Our family theme became this nervous internal joke paired with a shoulder shrug and an unenthusiastic retort: "It could be worse." Yes, it's true, it could always be worse. We had our health, a roof over our head, our basic needs met and most importantly, we had each other.  So what exactly was my problem? Ultimately, it was me. I needed a change, a simpler life and to just slow down a bit while smelling the roses. 
Instagram: @holisticbeautyinitiative 
Despite all of this, I found myself getting caught up in my own self-wallowing that was stemming from the magnitude of the problems that I felt  had. I'd lost the urge to go into problem solving action, which is typically one of my strengths. I love to solve a puzzle and adulting often is just that, arranging the pieces to fit the moment. The struggle was real...really real.  It's relative to that moment when you gaze at your aging self and say, "Who the heck is that person?" Generally, I am a very positive (at least I think so) and you wouldn't know by the way I presented myself to the world that I had developed this big case of defeatist attitude. 
With the turn of the New Year and this ever looming desire to dig deeper into my soul that was coupled with a relentlessly urgent question: "Am I living the best life that I can and that I want?" Ultimately, I decided that I wasn't fully and truly living  to the core of who I am or what I ultimately believe. As someone who is not only a don't-sweat-the-small-stuff-kinda-gal but one who does things for the greater good of my family, those I truly care about, the earth and humankind, I was feeling pretty careless. But diving in even deeper, I began to ponder: "What about the way I am taking care myself?" Um, yeah. I like so many other mothers, I put myself last on the self-love and care totem pole. I needed to get real and take action, for me.  I was falling apart inside and could barely keep myself together, much less sleep more than 4 hours/night. I was running on empty and guzzling endless cups of coffee just to keep up with the daily drama in my life.
In my journey to get back to my own truth, I knew I had to start doing things differently. I was hanging in my pajamas most of the day because I usually work from home. Not only was I being unkind to myself but I wasn't really mentally and emotionally present for the my children, my family and friends. Robotically, I was going through my daily routine whilst suppressing my internal peril. I decided that what I really need was simple: Take care of myself and then take care of everyone else. Yes, ladies (and gents) it's ok to put yourself first.  My mom-self just couldn't this through my head over the last 10 + years: "So and so needs me to take care of this first," and "I better take care of such and such next," until it was time to put the kids to bed.  Almost every day, I am up well before 5 AM and more often than not, it is much earlier. I've got farm girl in my blood  BUT… instead of taking care of me first thing in the morning, I'm clanging away at the keyboard on my laptop, prepping for the work week while it's quiet. What I really needed was to take a holistic approach to my daily routine. I needed to make a schedule, get myself ready for the day, actually do my hair, take care of my skin routinely, put on a touch of make-up and carpe diem! While this may seem easy for some, I really didn't have to because I am often in the comfort of my home. I can't tell you just how much these small steps just make me feel confident in my own skin again. Suddenly the person I used to be had resurfaced in some small fashion only this time I'm actually proud to be 20 years older. These simple changes that are proving effective already. So what did I change? I went back on the real food plan and I changed my skin and beauty routine. 
Food Matters.
Flashing back a few years ago I had really turned my focus on the food industry and what I was feeding to my family. This is probably the one time that I was really thankful that I was bed-ridden, dehydrated and unable to keep food or drink down for five days with a debilitating virus. Stuck in bed, I became enlightened by many documentaries (thanks Netflix!) such as Food, Inc.; Hungry for a Change; Fat, Sick and Nearly Dead; Fork Over Knives; The Gerson Miracle, and so many more. I began scouring the ingredients of everything I picked up in the grocery store promptly returning it to its spot if I didn't know what it meant or even pronounce it. I began to spend all day on Sunday's cooking, cleaning, and preparing non-processed locally sourced and organic foods.  Almost immediately, I began to see the difference in the eczema present in one child, the erratic emotional spikes we all had, the increased energy, & common illnesses were less prevalent in our household. I knew I was on the right path to ensuring that my family was eliminating the risks of potentially serious health issues. There are many wonderful ways to reduce the toxicity in the meals we eat, but for my family, I chose to mirror the 100 days of Real Food and use this cookbook, written by Lisa Leake, at least once a week.
Environmental Working Group, Skin Deep and EWG Verified.
After concerning myself mainly with the toxicity of the foods we eat for quite some time, I recently began to think deeper into the products we use at home and particularly on our bodies. Once again, I was beside myself at the findings of the very companies that rely on their consumers seemingly for profit only. These very companies act deliberately without consideration to the damage they are causing to the overall health of their biggest fans and the environment.  They seem fine with utilizing marketing tactics with their labeling that is meant to confuse the consumers into thinking they are making better choices for their loved ones with their faux "natural" and "organic" labeling. The Environmental Working Group (EWG), a non-profit, provides the best research and tools for the products that we use on a daily basis. Check out their website at EWG.org to learn more about the wonderful things they are doing to help us find the safest products on the market.  I am going to credit a friend of mine, Rachel, who's passion and knowledge of the tainted skin care and beauty industry inspired me to assess my own products here: https://www.ewg.org/skindeep/. I would love to be able to say that the products I have been using were more safe than not but it simply wasn't true. Without brand-shaming, at least in this post, I am going to tell you that my labeled "organic" products simply were anything but natural and/or organic. Go ahead and grab your daily most used items, search them up and share with me in the comments below what you found. I would love to hear how where your products fell on the Hazards Ratings scale? Were you surprised?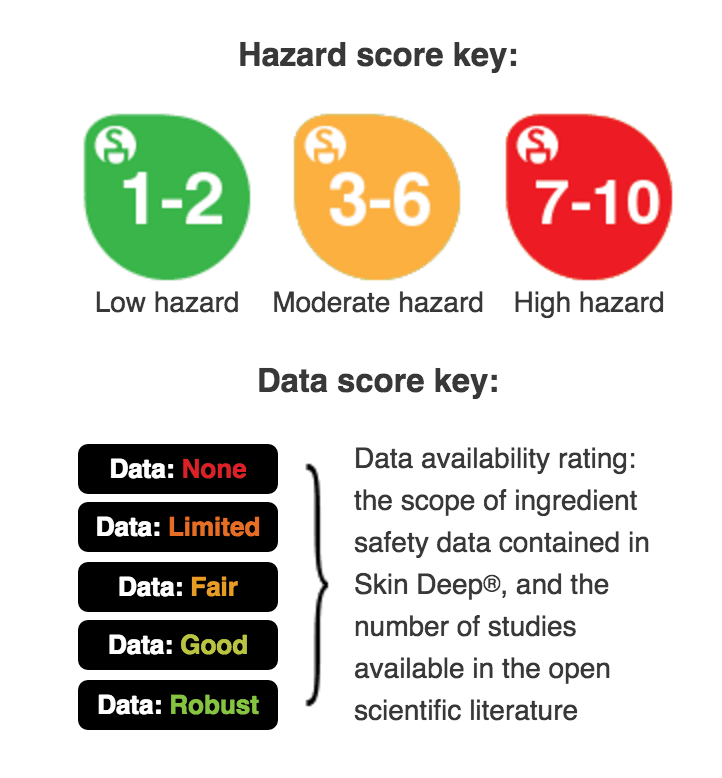 ­­­­­
Hazard Ratings Scale (above) Photo Courtesy of: Ewg.org
Every time I feel that I have found a personal care product that will score in the 1-3 range, I am immediately faced with a result of high level of toxicity report.  There are daily use products that had alarming exposures to allergies and immunotoxicity, developmental & reproductive toxicity, irritation to eyes, skin, lungs and compromised our  internal organs, nervous system as well as caused endocrine disruption. 
 *sigh* Good news though, there is an even stricter standards with the EWG Verified personal care products. Read here to see why the mark matters and look for the logo below: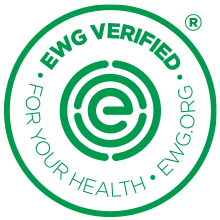 Beautycounter. 
Now brace yourself: I consistently based my health and beauty purchases primarily on price alone. *gasp*  Yep, that's right, solely on the BOGO Deal at the local big box drugstores. I mean, I've got a pretty large family along with 2 dogs so I wasn't going to be wasting my money on safer products for lil' ol' me. Do any other of you think this way? Even though we shouldn't, we do. It's all about saving money for most of us and the items that usually are sacrificed for quality in my house are the shampoos, conditioners, make-up and other popular personal care products. So now what?
Say Hello to Beautycounter.  Before I go any further, I must tell you that I am a consultant for this company not only because of the effectiveness of the products but the reasons I will mention next. While I would love for you to shop with me (and I hope you do!),  I even more so want and NEED to share the brand.  Beautycounter is a mission based company that is transparent with the ingredients they use via education, advocating change, researching products, using sustainable resources and always adhere to the NEVER List of over 1500 ingredients disallowed in the products that they sell to consumers. Beautycounter truly takes the guesswork out of the products they develop. They are transparent with each product on their site that contains a link for every listed ingredient in each product on they create.  I know when I purchase a Beautycounter item, the research has been done and the product is at the safest level it could be for consumers. Such a timesaver to not have to analyze and agonize over what is in the product when you shop. Score!  Even better, Beautycounter has 33 products on that are EWG Verified!  By the way, did you know that regulations in the U.S.A for health and beauty products has rarely been addressed since 1938?
Together, we can change the standards not only for ourselves but for the ones we love and the environment. Why? Because following the Beautycounter Philosophy:  "Beauty Should Be Good For You."  
Holistic Beauty Initiative. 
The more I learn and use the products (yes, they work!), the more I am determined to share the mission with everyone I know. And that is how the Holistic Beauty Initiative came to be. I want to take small steps towards permanent change that will lead to the improvement of the quality of your life, overall health for yourself, your loved ones and your home using the
S + H + A + R + E Philosophy:
Sustainable Products
Health Awareness
Advocate Change
Responsible Consumers
Environmentally-Conscious Companies.
Am I living a totally toxic free life? Definitely not, but I'm well on my way. Besides that would be difficult for anyone given the environmental exposures already out there that we can't control. We can however move in that direction as a whole, for the next generations to come. Remember,  "Rome wasn't built in a day but they were laying bricks every hour." as quoted by James Heywood. 
I can't wait to share more of what I am learning and how I am changing the way I do things, not only for myself but for those important to me. 
Instagram: @holisticbeautyinitiative 
I hope that I have inspired you to take a deeper look at what's important to you. Since I have begun to make myself a priority again and not feel selfish for doing so. The result is refreshed outlook on life and the motivation that I temporarily lost. To me, it is priceless.  
Thank you for taking the time to read this post. Until next time!
XOXO, 
~Jaime
Holistic Beauty Initiative Facebook Group:
Instagram: @holisticbeautyinitiative 
 ******
**This post does contain affiliate links for my Beautycounter page. The other links are purely for information and I am not compensated for those items. I just love to share what I have learned.